Creditinfo: Legacy UI Migration to React
The CBS is a single platform for private and public credit reporting institutions. The CBS helps bureaus facilitate their operations end-to-end, from data submission to data alerting, report generation, or score calculation.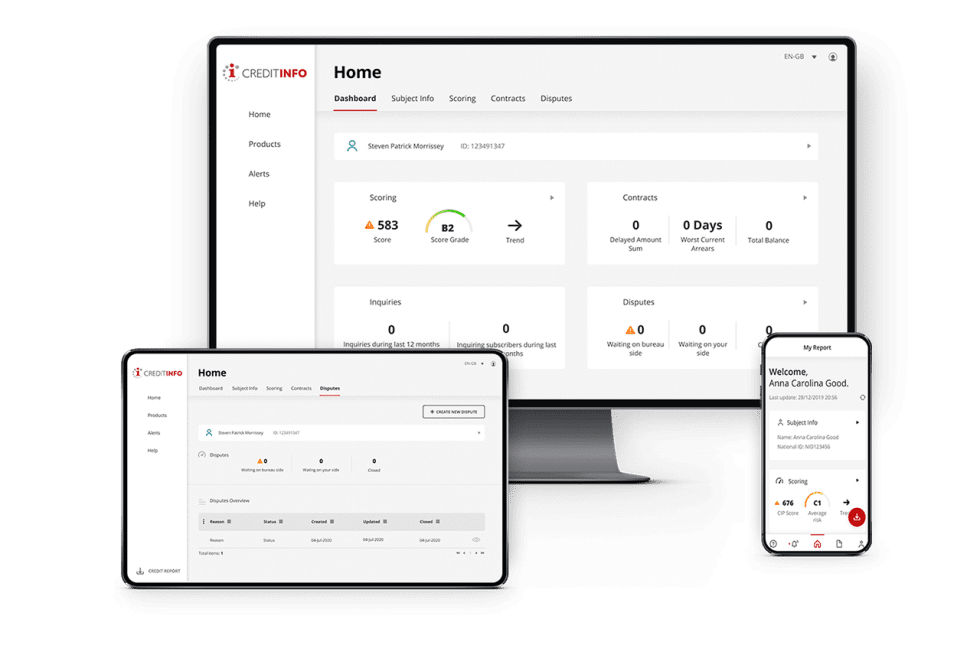 Technology Stack
React

Redux

TypeScript

JavaScript
Team requirements
3× React Developers

Analyst

Project Manager

QA Automation
Creditinfo, a prominent name in the financial sector, sought a reliable partner to entrust with hiring proficient front-end developers. Whirr Crew rose to the occasion, assembling a stellar team of React and React Native experts. Our mission was to migrate the Credit Bureau Solution (CBS) legacy UI to ReactJS. This project spanned over 100 screens across 48 modules, with a budget of over 2000 MDs.
The My Creditinfo App was envisioned as a user-friendly platform for individuals to manage their credit history. It provides insights into the processes of data banks and other financial institutions during loan issuance. Through timely credit alerts, users can ascertain their credit score and keep tabs on their credit history. The challenge lies in ensuring that this vast array of information is presented intuitively and user-friendly, allowing users to navigate their credit data seamlessly.
Our dedicated React developers spearheaded the UX/UI design initiative for Creditinfo. Beyond addressing and rectifying bugs, we actively developed and integrated new features to enhance the user experience. Our primary goal was to design visually appealing and intuitive interfaces, ensuring users could effortlessly navigate and interact with the platform. Through our efforts, we aimed to make the digital product more functional and user-friendly for Creditinfo's clientele.
Our React developer is responsible for UX/UI design. He fixes bugs and develops new features to enhance the overall user experience. He creates intuitive and visually appealing designs that improve the usability and functionality of digital products.
Do you like what we did for Creditinfo?
The culmination of our efforts was a brand-new responsive UI in ReactJS for the Financial System, offering:
A unified UI for both front-office and back-office operations.

Elimination of the need for client-side installations.

Enhanced interconnectivity between different features and modules.

A responsive design ensures consistent content display across devices.

A contemporary look and feel.

Augmented report readability and concise PDF report generation.or sit amet
Partnering with Creditinfo underscored our commitment to delivering top-tier IT solutions tailored to our clients' unique needs. By successfully migrating the legacy UI to ReactJS and enhancing the My Creditinfo App, we've reaffirmed our front-end development expertise and dedication to client satisfaction. As Creditinfo continues to empower users with essential credit insights, Whirr Crew stands proud of our role in this transformative journey.
We look forward to fostering this partnership and driving further innovations in fintech.